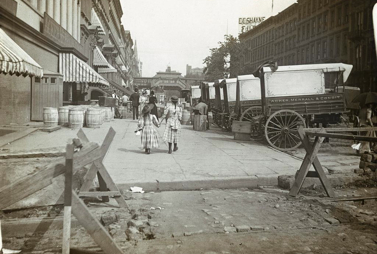 What started as a package store in 1820, has today become the oldest and most respected wine shop in America. Acker Merrall & Condit, located on the beautiful and historic Upper West side of Manhattan, has provided expert wine services for nearly two centuries. In addition to an incredible selection of the newest releases and most desirable wines in the everyday market, Acker Merrall offers a deep inventory of fine and rare wines for immediate sale; most of which can only be found at rare wine auctions.
With a culture deeply rooted in customer service and a commitment to the highest industry standards, Acker Merrall is a true one-stop-shop for professional wine service in every form - offering a vast array of services, from recommendations on new releases, a deep inventory of fine and rare wine, first class wine education amenities, in-store tastings, and our crown jewel, fine and rare wine auctions.
In 1998, President and CEO, John Kapon, a third-generation wine merchant, branched out his family's retail store operation to conduct independent, live auctions in New York City. Rather than follow in the footsteps of traditional auction houses, Acker Merrall set itself apart from the crowd right away in three important ways. First, it charged 0% sellers commission, attracting many consignors to the world of wine auctions. Then, Kapon used his strong knowledge of retail pricing and demand to give more realistic estimates of the world's finest wines, which was especially important for newer releases and the cult wine explosion that happened in the late 1990's. Third, Acker Merrall brought its customer service ethic that had been cultivated for nearly two hundred years to the auction market - providing a personalized touch and approachability that traditional houses had lacked. It was, and remains to this day, a unique approach to offering fine and rare collectible wine at auction.
Only ten years after its first auction in New York City, in 2008, Acker Merrall became the first to recognize the growing thirst for fine and rare wine in Asia - and as true pioneers in the industry, held its first Asia sale on May 31st, 2008. Acker Asia was born. This first auction held in Hong Kong was a tremendous success selling over $8M USD of wine to a market recently freed from prohibitive tariffs on alcohol. In 2011, Acker Merrall cemented its position at the top of the wine auction market by being the first wine auction firm to exceed US$100 million in revenue between all of its affiliates, setting hundreds of world records for wine throughout the year in the process.
With affiliated companies in Hong Kong, New York City and Tokyo, Acker Merrall hosts auctions every month, both live and on the internet. Drawing upon our deep network of relationships among private collectors and inside the wine industry, Acker Merrall offers the widest selection of the rarest and most highly sought-after wine to enthusiasts, collectors and burgeoning wine lovers worldwide. Today, Acker Merrall & Condit is world's largest wine auction house. It is the premier destination for personalized, polished and expert services in all areas of wine.
Deep and proprietary knowledge of the fine and rare wine market, strong, lasting relationships with the world's great collectors and uncompromising standards are the pillars of our organization at Acker Merrall & Condit.